Montgomery County Association
Family & Community Education
"STRENGTHENING FAMILIES THROUGH EDUCATION"
301-384-2805
301-384-1565 FAX

TROOP SUPPORT
MCAFCE has been working with two military support groups since 2007:
TREAT THE TROOPS and OPERATION SHOEBOX.
For TREAT THE TROOPS, we bake, pack and ship cookies, brownies and snack
foods for our military men and women stationed in Iraq and Afghanistan, a taste of home that means the world to them and lets them know we care. In addition to the items above, each package contains notes of encouragement, thanks and support to our men and women overseas. We ship between 40 and 45 boxes each month (with the exception of Dec).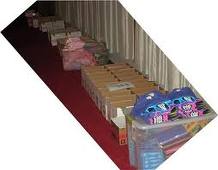 For OPERATION SHOEBOX, we knit and crochet helmet liners, cut, sew and make ditty bags and Christmas stockings, and crochet drawstrings for the Christmas stockings and ditty bags. We collect small recreational items, travel size hygiene and dental products, (regular size toothbrushes), beanie babies, matchbox and hot wheel cars, miniature toys (e.g. McDonald toys) etc.
These are shipped to the Operation Shoebox organization in Florida where they fill the ditty bags, and Christmas stockings and ship everything to our troops in Iraq and Afghanistan. We ship all the above items in October only. We have been very blessed to have a local company who has very generously shipped these 50 to 60 boxes every year for us at their expense.
Acrylic and soft wool yarn (4-ply) in neutral colors are needed for the helmet liners, as well as unisex fabric for the ditty bags and Christmas fabric for the stocking. We also need more volunteers for cutting and sewing these items.
In addition, we would appreciate as many personal notes as you have time to write for inclusion with our packages. Ask your families, neighbors, co- workers, church members, school children, scouts, etc. to write notes as well. The Beanie Babies, Matchbox and Hot Wheel Cars are given to the local Iraqi and Afghan children by our troops in the neighborhoods and in the hospitals. We collect the comic pages with Crosswords and Sudoku puzzles from the newspapers. PLEASE ELIMINATE THE POLITICAL DOONESBURY COMICS.
In order to sustain these two projects, we need your financial support to cover the expenses necessary for postage costs and supplies. If you'd prefer to write a check in lieu of a cash donation, it should be made out to: MCAFCE. The Montgomery County Chapter of the Maryland Association for Family and Community Education (MCAFCE) of Maryland, is a non-profit 501(c)(3) organization.
We are always looking for volunteers to help support us in our mission.
Many thanks,
CONTACTS:
Maddi Klein 301-774-8088 maddik@comcast.net